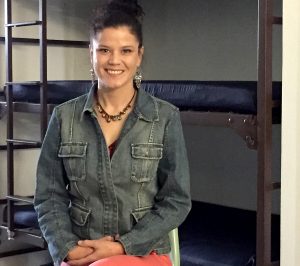 Marcie Stoddard, Navigator With Life Link
Meet Marcie Stoddard. She's a Navigator. Since ancient times, a navigator is one who set the course for travel on the seas, land or air. But Marcie is not that type of navigator. Instead she helps set a course for guests at Interfaith Community Shelter.
Marcie is with Life Link, one of ICS's partner providers. Through a grant from Santa Fe County, Marcie has her office at Pete's Place and works with our guests. Santa Fe County Community Services Department had identified the needs in the area and created an Accountable Health Community (AHC) in the county. It is their vision that by 2020, all Santa Fe County residents regardless of income have access to high-quality health care and are linked to the resources they need for health and well-being. The county gave grants to ten non-profit service providers including ICS and Life Link.
As an AHC Navigator, Marcie talks with guests to evaluate their needs. "I ask them what their needs are concentrating in the areas of secure housing, feeling safe, reliable transportation, reliable utilities, and access to nutritious food," Marcie said and adds, "There may be other needs of the guests to be addressed, too." She listens carefully and "navigates" with the individual to determine the best course for his or her well-being. A Navigation Plan is then written with the needed services and individual goals. These goals are specific, measurable, achievable, relevant and have a realistic deadline.
Marcie previously worked in Texas for service providers in housing and addiction treatment. And, though with Life Link and ICS for only a short time, she has made a difference. "One of my clients was a young woman who got in legal trouble and was disconnected from her home, school – everything," Marcie said. "Now, she's back in school, has a place to live and is back in the community."
Marcie also works with the Women's Support Group that meets on Thursday mornings at Pete's Place. "We meet to talk about whatever the women want to talk about that day," Marcie said. "But the goal is to improve each woman's ability to cope. We talk about building on our strengths and how to deal with life and our emotions in general."
Making a map, a route to follow through the sea, land or air. That's what a navigator does. Marcie helps people navigate through life's obstacles and trials.