In my last post, I wrote that the trauma experienced by Vietnam Veterans was the first of a triad of issues that led to today's homelessness crisis.
The second leg of the three-legged stool was de-institutionalization of the mentally ill. De-institutionalization was actually a very promising idea–that re-integrating people back into their home communities would provide them with the normalization that a state institution could not.
The idea was to return institutionalized people home to their local communities. There they would receive the appropriate psychiatric, day and residential services. These small group home settings were called Community Integrated Living Arrangements. Further, federal dollars would follow the patient from the institution to the locality to pay for the services. In essence, people with mental health issues severe enough to render them institutionalized would be mainstreamed back into their familiar neighborhoods where they had support systems of family and friends. It was very forward thinking and humane.
However, in the Omnibus Budget Reconciliation Act of 1981, Congress eliminated all the funding that was to follow these patients to these small group homes. That's when we saw that huge explosion of de-institutionalized people on the streets in all the major cities in America.
When I was a kid growing up in New York City, the only homeless people we saw were men sleeping in the doorways in a short stretch of blocks on the Bowery, where there were rows of SROs (Single Room Occupancy Hotels) where a person could get a very inexpensive room for the night.
I only remember it being men in those days. Now, I realize, those men were probably World War II or Korean War vets suffering from what came to be called PTSD, but then was called "shell-shocked."  After the loss of federal funding for the mentally ill, people with mental illness, with no home or family to effectively manage their illness, found themselves homeless almost overnight. They began to show up in every neighborhood in New York City. Homelessness was no longer confined to The Bowery.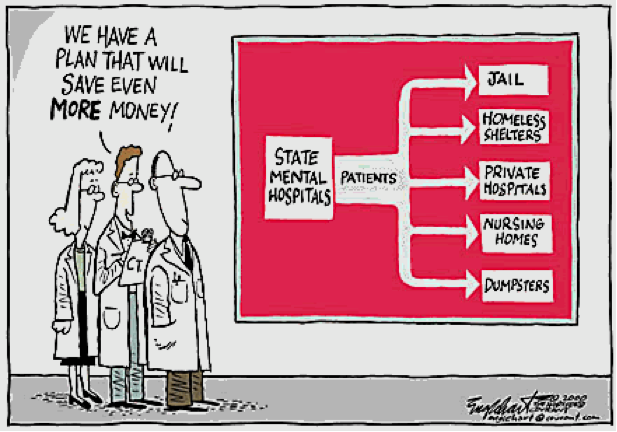 The same was happening all across the country. One estimate was that the homeless population in shelters increased by 40% after de-institutionalization. Suddenly, shelter operators were dealing with traumatized veterans and de-institutionalized individuals with mental illness. Neither of which we were prepared to serve. To this day, homeless shelters and jails are still the only places thousands of mentally ill individuals end up, and that is tragic.
As the Albuquerque Journal reported this week, there was a surge in homelessness in New Mexico last year–the largest in the nation, in fact. That followed on Gov. Susana Martinez's firing of all 15 of the state's behavioral health providers.
In 2013, 15 behavioral health providers were shut down by the state Human Services Department after an audit alleged fraud. After a lengthy investigation, Attorney General Hector Balderas' office eventually cleared all 15 providers of any wrongdoing.